Quilt Geometry
by Steven H. Cullinane


"Making quilt blocks is an excellent way to explore symmetry.
A quilt block is made of 16 smaller squares.
Each small square consists of two triangles."


-- the Annenberg/CPB site on
Shape and Space in Geometry



Annenberg/CPB Examples: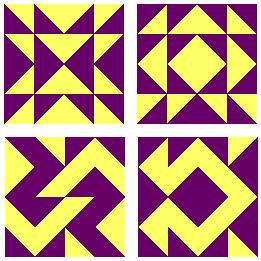 The Annenberg/CPB site goes on to explain some very elementary notions of symmetry for the benefit of elementary-school teachers.
Here are some additional examples, following the above definition, of more traditional quilt blocks, with their traditional names:

Actually, a great deal more can be said about quilt geometry.
The following list indicates some resources.

Elementary:
Quilting Our Way Through Geometry
Geometry in Traditional Quilt Design
The Geometric Appeal of Quilting
Finding Geometry and Algebra in Quilts
Technology-Enhanced Learning of Geometry
Click and Drag to Make a Quilt
Intermediate:
Planet Patchwork Quilt Software Reviews
Quilt Software Article at About.com
Advanced:
Block Designs in Art and Mathematics
---
Page created August 9, 2004